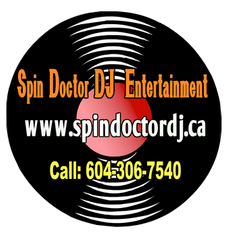 VANCOUVER'S ONE STOP DJ SERVICE!
Warner Broth Some of the Corporate Companies and their clients we have entertained
Lululemon, Warner Brothers, Sunrise Farms, FIFA, Fox Sports, Soccer Canada, Million Dollar Round Table, ZLC Financial, Surrey Board Of Trade, Mr. Lube, Executive Hotel Le Soleil, Harbour Cruises, Miller Titerle & Co, Heli Welders, BC Produce Marketing, Pro Organics, Valley Imaging, Healthy Chef Competition, Gold Key Automotive Group, Sim Digital, Monte Carlo Nights Casino, Tunnel Town Curling Club, Noteable Entertainment, City Of Richmond, Meadow Gardens, Red Hat Society, Sears Canada, White Rock Legion, Langley Senior's Centre, BC Trucking Association, Tupperware, Scotia Bank, Chevron, Executive Plaza Hotel Burnaby, Hope Golf Club, Grand Villa Casino, RBC, Delta Hotel Burnaby, Executive Plaza Hotel Coquitlam, Guildford Golf Club, Sepro Minerals, Inland Kenworth, Westcana, Pro Vita, White Spot, Langley Memorial Hospital, Pioneer Park, Valley Lube, Lisi Mechanical, Barkley Brook, Halo Sawmill, Advanced Integrated Technology, Reliance Protectron, Elim Housing Society, Ramada Plaza & Conference Abbotsford, General Paint, EB Horsman, Valley Gravel, Westin Bayshore, Pinnacle Hotel, Eaglequest Coyote Creek, Heritage Steel, Division 15 Mechanical, Mega Crane, US Law Society, Al-non, Thrifty Foods, HY Louie, Fraser Valley Kidney Walk, Best Buy, Future Shop, Dancing With The Stars, Google, Creation Entertainment LA-Supernatural TV Series, Yellow Pages Group, Tourism Toronto, Canadian Cancer Society BC Yukon, Leukemia Society, BMO Marathon, Lennox House Films, Abbotsford Police, Surrey RCMP, False Creek Yacht Club, Motrux, Salmon's Transfer, Shanahan's, White Rock Power Squadron, Surdel Power Squadron, Real Canadian Superstore, Murrayville Manor, West Vancouver Yacht Club, Nanaimo Yacht Club, Fujitsu Engineering, Industry Training BC, Langley Chrysler, Abbotsford Hyundai, Langley Fiat, Drive More Sales, Xango, Healthy Business, Abbotsford Traditional Secondary, Mountain Secondary, North Surrey Secondary, Alcoholics Anonymous, DreamGroup Productions, Sheraton Guildford, Auld Phillips Fashions, Suzanne's, BC Hydro, Croft Agencies, Now Newspaper Group, Bridge Electric, Canadian Outback,Grand Villa Casino, Sunrise Poultry, Britco Pork, Fraser Health, Sutton Realty, MacDonald Realty, Hub International, Washington Trial Lawyers, Cloverdale Paint, West Coast Golf Group, Hazelmere, Swan-E-Set, Pitt Meadows Golf, Sunrise Banquet Centre, Langley Golf & Banquet Centre, Jysk Canada, Garden Protein Int'l, Yves Veggie Cuisine, White Spot, Hydra Marine, B-1 Traffic Services, Surrey Golf Club, Fraser Downs, Orangeville Raceway Ltd, Intergulf, CEI Architecture, Great Canadian Casinos, Sempa Power Systems, Leukemia & Lymphoma Society, Industry Training BC, Asco Aerospace, Synergy Engineering,Canadian Home Builders, Polygon Homes, UBC, Raymond James, Jeffery & Calder, William Watson Elementary School, Canadian German Chamber Of Industry & Commerce, Brock House, Delta Kappa Epsilon Fraternity, Lifelabs Medical, Harrison Hot Springs Resort Hotel, Minter Gardens, Deloitte Touche Canada, Open Solutions, Gateway Casinos, AA Burnaby Roundup, Diva On A Dime, TD Canada Trust, Maple Trust, Colony Capital, Cascades Casino, Starlight Casino, Scamp Industries, Noteable Events, Westwood Plateau, Wesbild Holdings, Port Coquitlam Parks & Recreation, MDS Nordion, Harris Rebar, BC Drywall, Cost Plus Painting, Wolfe Auto Group, LA Matheson Secondary School, Givenchy Perfumes, Entertainment One, Price Waterhouse Coopers, Morguard Investments, Fraser Health, Hazelmere Golf Course, CIBC, Sullivan Heights Secondary School, North Surrey Secondary School, Price Smart Foods, SurDel Power Squadron, Koffman Kalef LLP, Sunset Bay Charters & Event Planning, Sandy Point Improvements, Ocean West Catering, Cdn Managing Accountants, Opus Hotel, Lower Mainland Steel, Marine Drive Golf Club, All Your Needs Catering, Ritz Catering, Weddings by Diane & Lissi, Siegel Entertainment, In Any Event Design, Riggit Services Inc., Crave 95Radio, Simon Cooksley Event Design, Reflection Events, Vancouver Marriott Pinnacle, ADI/Ademco, Noteable Entertainment, BC Produce Marketing, Grouse Mountain, Surrey-White Rock Senior's Support Services, People's Drug Marts, Heritage Music Festivals, GraylineTours, Grouse Mountain, Canadian Bar Association, American Bar Association, UMA Engineering, Trow & Associates, Labatts, ISES Vancouver, Vancouver Canucks, Vancouver Griffins Female Hockey Team, Rare Indigo, Cantrav, Pacific Destinations, Art Of The Party, Hyatt Hotel, Ramada Hotel Abbotsford, Delta Airport Hotel, Diamondex Resources, Molson Indy, The Bay Stores (BC), Staples, Home Depot, Fountain Tire, CIBC, Save-On Foods, Sierra Wireless, Creation Technologies, Accpac, Sage, Univar Canada, ALS Laboratory Group, BC Turkey Growers, Richform Construction Supply, UBC Bio Medical Research, ICBC, EA Fisher, Britco Pork, Shopper's Drug Mart, Colwin Electrical, Bayhill Contracting, Rimshot Productions, Wild Bill'sCasino, McDonalds, Delta Cable, Chateau Whistler, BC Sports Hall Of Fame, Urban Fare, Boston Pizza, Chevron, Minit-Tune Int'l, Cloverdale Rodeo, Vancouver Port Authority, IAMS Pet Food, Teldon Print Media, 5 Star Catering, Sunrise Banquet Centre, Hazelmere Golf Course, Westwood Plateau, Peake of Catering, Country Catering, Culinary Capers, Len's Catering, Semiahmoo Fish & Game Club,Terminal City Club, Coyote Creek Golf, Malary's Fashions, Automotive Retailers Association BC, Nissan, Datawest, Canaccord Capital, Parklane Homes, Radisson Homes, Fraser Valley Home Builders, BC Pavillion Corp, Pan Pacific Hotel Catering, Gourmet Hideaway, Kingfisher's Game Club, Imex Import Export Cartage, Markus Group, Ocean Promenade Hotel and many more!
SOME TESTIMONIALS
"Spin Doctor DJ George did a great job, I would recommend him to all my family and friends"
"Thanks so much George, it was a pleasure to work with you! You are definitely in my speed dial now...you are professional, reliable, highly experienced and just a straight-up nice guy to have around! I hope we cross paths again soon! "Erin Kathleen Bishop, Associate Planner, Dream Group Productions Inc.
"Thanks for the great job at my wedding. Cheryl our DJ was excellent, friendly courteous and read the crowd perfectly....something I could never do!"
"Excellent dedication and finesse following our crazy agenda George....but you did it! You guys sure have a huge library of hits songs and up to date!"
"Our DJ Cheryl did a fabulous job! The music was better than I could have imagined. I especially loved our last song...everyone was crying. You brought our whole family together...THANK YOU!!"
" DJ Josh, You made our memorable day even more special than we could imagine!
"Thank You DJ Mike! The highlight of my wedding was seeing my whole family & wedding party dancing together!"
"Thank you for all your wonderful work DJ Aaron...you made our party. It is something we will cherish forever"
" DJ George! Thank you so much for your dedication to all the fine details on our special day...you made it SPECIAL! "
"Thank you DJ Cheryl for providing us with a wonderful evening of music and dance"
"Thanks to you for ALL YOUR HELP! Brian and I are so grateful that you were a huge part of our wedding festivities George!"
"Thank you so much George for being the DJ for our wedding reception! Your quick informative responses made booking with you a lot easier as well. We will definitely recommend your business to our family and friends!"
"THANK YOU SO MUCH DJ JOSH!!! We had a blast and so did our guests...you guys are the best!"
"Our wedding turned out better than we could have imagined..THANKS TO YOU DJ CHERYL!"
" George, Your expertise, professionalism and crowd pleasing demeanor was a huge success at our awards banquet!"
"Your "Sample Song List" and forms helped us immensely to format music and time-lines for our event!"
"You sure had us up singing and dancing....that's a huge library of dance hits and karaoke songs."